About 30 students, freelancers, and working professionals turned out for time slots with some of the best and brightest creatives in Las Vegas on May 9 as part of the inaugural AIGA Las Vegas Portfolio Review Day. Every participant was guaranteed to have their work seen by at least four creatives, with each review and interview ranging between 15 and 20 minutes.
"As the event progressed, we were able to become more flexible in matching up students and professionals," said David Hardy, president of AIGA Las Vegas. "Some saw as many as eight creatives, mostly because several of them wanted to stay on and see more work."
Their feedback touched on every facet of a presentation — with an emphasis on individual work, process and execution, and the impression made by the overall package. What struck many reviewers most was the caliber of the work — ranging from sophomoric to seasoned — and the diversity of the displays — ranging from iPad presentations to the professionally mounted work.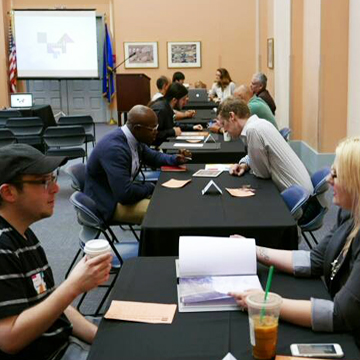 "Several students really stood out. One of them had ordered a specialty stock from French Paper Co. and hand built a portfolio that folded out to reveal his work," said David Sly, membership director of AIGA Las Vegas and a principal coordinator for the event. "And another student, Ted Lamisere, stayed on to have his work seen by as many reviewers as possible."
Lamisere, who is currently attending The Art Institute of Las Vegas, was especially impressed with the consistency of the feedback. He said students are sometimes unsure whether feedback from other designers is based upon personal preferences or industry standards, but there was no confusion at the event. Almost all reviewers touched on the same points, over and over.
"It was really very rewarding because so many design students are working on their own and don't have the benefit of receiving feedback from such an experienced group," he said. "I took much of what they had to say to heart and am already improving my presentation."
Reviewers Included:
• Jonathan Boarini, professor, College of Southern Nevada
• Gregg Carnes, principal, Truh'st
• Gabriel Garcia; design director, Caesars Entertainment
• Joslynn Hupe, creative director, Canyon Creative
• Val Lehnerd, principal, Val Lehnerd Design
• J.S. Leonard, senior experience engineer, Spatial Key
• Karen Lo, senior graphic designer, Caesars Entertainment
• Edgar Nunez, creative director, UNLV Medicine
• John L. Pestka, solutions consultant, Adobe
• Beka Pica, design director, Caesars Entertainment
• Ria Reodica, creative director, Luxury Las Vegas Magazine
• Lee Richie, art director, American Casino & Entertainment Properties
• Victor Rodriguez, creative director and owner, Eurie Creative
• Brandi Scharrer, director of product management, Direct Edge Brands
• Ashley Stroud, design instructor, Las Vegas Academy of Arts
The event was hosted by the Las Vegas-Clark County Library District, which provided space for the free event. AIGA Las Vegas and the Las Vegas-Clark County Library District work together as producing partners of the Vegas Valley Book Festival, together with the City of Las Vegas, Black Mountain Institute, and other organizations in support of literacy in Southern Nevada.
"The most rewarding aspect of the AIGA Las Vegas Portfolio Review Day was how it benefit both the reviewer and those being reviewed," said Hardy. "Several reviewers said they were thrilled to be part of it because it had been a long time since they had the opportunity to see student work while many students have said it was the single most beneficial review of their careers."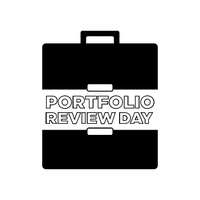 Hardy said that AIGA Las Vegas is already working out the details for next year. The nonprofit professional organization is especially interested in securing sponsors for the event, which could provide more time slots for students, freelancers, and working professionals. For more information about sponsorship opportunities related to this event (or throughout the year), contact Hardy at AIGA Las Vegas.